Digital innovation: a driving force for positive transformation
Building the bank of tomorrow through innovation and digital transformation 
Committed for many years to an ambitious digital transformation, Societe Generale has built the technological and cultural foundations necessary for all its core businesses, functions and regions. The Group's pioneering spirit enables it to create high value-added solutions for our clients and to respond to new and growing economic, societal and environmental challenges.
Innovation allows us to invent the models of the future, play a role in positive economic transformation and offer new customised, secure and responsible products and services to our clients and the wider market. As such, the Group is committed to modernising IT systems and to sharing and industrialising innovative digital solutions. The aim is to bring value to our clients and staff, by responsibly combining the best of digital and human resources.
This is how our bank becomes more accessible. Societe Generale customers benefit from online solutions that cover both basic and innovative services. New channels make it even easier to readily access the information you need, according to your schedule and not the opposite.
Our bank is also becoming seamless. Societe Generale is developing fluid and transparent experiences for its customers, so you can bank easily and independently, using integrated and efficient processes.
Finally, our bank is also becoming more personalised. By anticipating the needs and expectations of our customers, we offer tailor-made services, leveraging the full potential of Data and Artificial Intelligence.
 - 62% of European retail banking customers use digital channels for their banking services, and 94% of payments and transfers are now made via digital channels
Today, at Societe Generale, 117,000 members of staff and dozens of fintechs and start-up partners are helping to transform business lines to satisfy and protect 25 million customers in 66 countries.
Accelerating the digital transformation of the Group's businesses by:
building an efficient and secure technical infrastructure,

better applying our "Tech & Data" resources to generate value,

serving the businesses with increased agility and efficiency,

providing our customers with a better digital experience.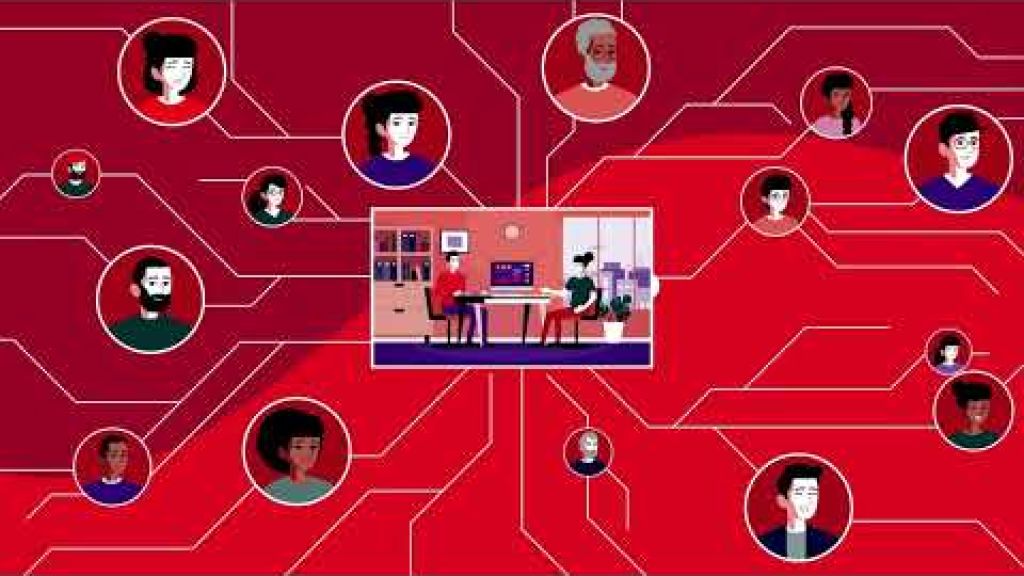 Data and artificial intelligence, the driving forces of Societe Generale's digital transformation
Supporting the people building the world of tomorrow, today 
In order to offer an increasingly seamless, personalised and secure customer experience, the Group has opened itself up to the fintech ecosystem and forged close and lasting relationships with these "new" players, thereby opening up new avenues of growth for Societe Generale, capitalising on our role as a trusted third party and our network of qualified experts. 
In keeping with this pioneering spirit, over twenty years ago Societe Generale launched Boursorama, which is now the leading online bank in France.
Close and long-term relationships between the Group and new start-ups are also brought to reality through the Societe Generale Ventures investment fund. The Group has invested more than €230 million in over thirty promising start-ups and fintechs.
These include:
Societe Generale Forge

– which is developing a digital asset platform (bonds, equities and structured products) on public blockchains

(More about Societe Generale - Forge via 

Innovation Insider

 

);

Shine

– a neobank offering bank accounts and services for the self-employed and professionals;

Reezocar

– the most popular marketplace to sell used cars to private individuals in France;

Treezor

– a leader in banking-as-a-service, recognised as the fintech of fintechs.
New strategic and commercial partnerships are being forged between the Group's businesses and a wide variety of start-ups. The Group is constantly seeking new partners and has set up an Open innovation platform. It connects more than 60 innovation leaders, spread across all the Group's activities, with any start-up operating in one of the priority segments identified by the Group.
Open Banking to increase client satisfaction
To meet new client expectations and satisfy their need for interaction, the way banks do business is changing. Societe Generale is partnering with innovative players by opening up its IT systems via Application Programming Interfaces (APIs), with no compromising on security, compliance or regulations. This open approach makes it possible to offer increasingly innovative and personalised services.
Through its Open Banking initiative, the Group is rolling out two key models.
Bank as a Platform, which offers innovative solutions from external partners to Societe Generale's clients. For example, we can support clients throughout the numerous stages of a property purchase from helping them find a home or putting them into contact with builders as well as offering loans and insurance products.
Bank as a Service, which provides our partners – e-commerce players, neobanks and fintechs – with Societe Generale products and services for their clients, such as online payments and insurance products.
Data and Artificial Intelligence: tools of increased value
To support these strategic objectives, the Group builds on the application of Data and Artificial Intelligence to bring more value for our customers (such as a more completely digital experience or the personalised of offers) and improve its internal processes (operational efficiency or risk management for example).
Harnessing the full potential of Data and Artificial Intelligence allows us to offer an increasingly personalised, seamless and secure customer experience. Since 2014, Societe Generale has been continuously and strongly investing in this area while ensuring the security and the protection of all the data we hold. Each day, over a thousand experts are working on designing more responsive and efficient services.
Currently, the Group has deployed more than 330 solutions that are in daily use by our clients and our staff.
Artificial Intelligence/Data use cases in production

Application Programming Interface (APIs)

of servers/infrastructures on the Cloud (public and private)

of IT teams working in agile mode by 2025
Cybersecurity - a key priority
To combat increasingly industrialised cybercrime, Societe Generale continues to invest heavily in cybersecurity, the cornerstone of clients' trust.
The Group has invested over €650 million in cybersecurity over the last three years.
We also pay particular attention to the security and resilience of our suppliers and works closely with the cybersecurity ecosystem, particularly ANSSI, the French national information systems security agency. The Group is also an associate member of Cyber Campus, an initiative set up by the French government to bring together all stakeholders around innovative security projects.
Toward sustainable digital technology
As a signatory of the French Institute for Sustainable IT's Sustainable IT Charter in 2019, the Group has launched an ambitious programme to limit the negative impacts of digital technology on the environment and society.
The Group has also announced plans to reduce our IT carbon footprint by 50% by 2025. To this end, we have implemented numerous initiatives that we closely monitor and measure, including transforming our data centres, recycling and reusing IT equipment, better data management, eco-design and e-accessibility tools and training for IT experts. And then raising awareness of these practices among future generations.