From the Jean Bouin stadium to Marcoussis: Societe Generale on every rugby field!
Founded in 1903, the "Club Athlétique de la Société Générale" (CASG) reached its peak between the two world wars. Its history goes far beyond the exploits of its famous athletes such as Jean Bouin or Jules Ladoumègue. For example, it also played a major part in the modernisation of French sport, notably by financing high-quality infrastructures.
In the mid-1920s, the Club Athlétique de la Société Générale (CASG) established itself as one of Europe's leading sports associations. Divided into regional groups, its ten thousand members trained two or three times a week to represent "La Générale" in various competitive events. Aware of the performances of its athletes, the Bank's senior management soon had to take action to provide the club with better infrastructures. Rather than leasing municipal land, as was customary at the time, they were told by local CASG groups that the latter would rather acquire stadia where their teams could come whenever they wanted, leave their equipment and play their home matches. At a time when getting involved in sport was becoming more widespread and the public was increasingly eager to watch matches, the local CASG groups said this was a question of image, not just a question of comfort and convenience.
Societe Generale entrusted to one of its subsidiaries, Société immobilière Parisienne et Départementale (Parisian and departmental real estate company), the task of purchasing, fitting out and managing these future sports facilities. The project began to be implemented shortly afterwards. Thanks to the efficient assistance of architects, town planners and gardeners, but also of logistics coordinators, technicians and caretakers, the CASG's sportsmen and sportswomen saw their training facilities improve significantly in barely a few years. In Marseille, the CASG became the owner of the Indiana ground. In Orleans, it acquired the Lamballe stadium in La Croix de Fleury. In the French capital, the work carried out was even more ambitious. The Bank's management began negotiations with the city of Paris to purchase land adjacent to the Parc des Princes, in the west of the city, for sports purposes. Following much bargaining, made more complicated by roadworks, it decided to review its original project and build a brand-new stadium. The city council agreed to let the Bank have five hectares of land in the 16th arrondissement by Porte Molitor. This area would be entirely dedicated to sport and become a breeding ground for sporting champions!
The club built a stadium devoted specifically to rugby with room in the stands for 20,000 spectators and a 450 metre cinder track for athletics events. There were also eleven tennis courts and an adjacent football pitch. The new stadium was inaugurated in October 1925, and was named after Jean Bouin, a CASG Olympic gold medallist who was killed in action during the First World War. A sporting icon during the Belle Époque to whom Societe Generale wanted to pay tribute.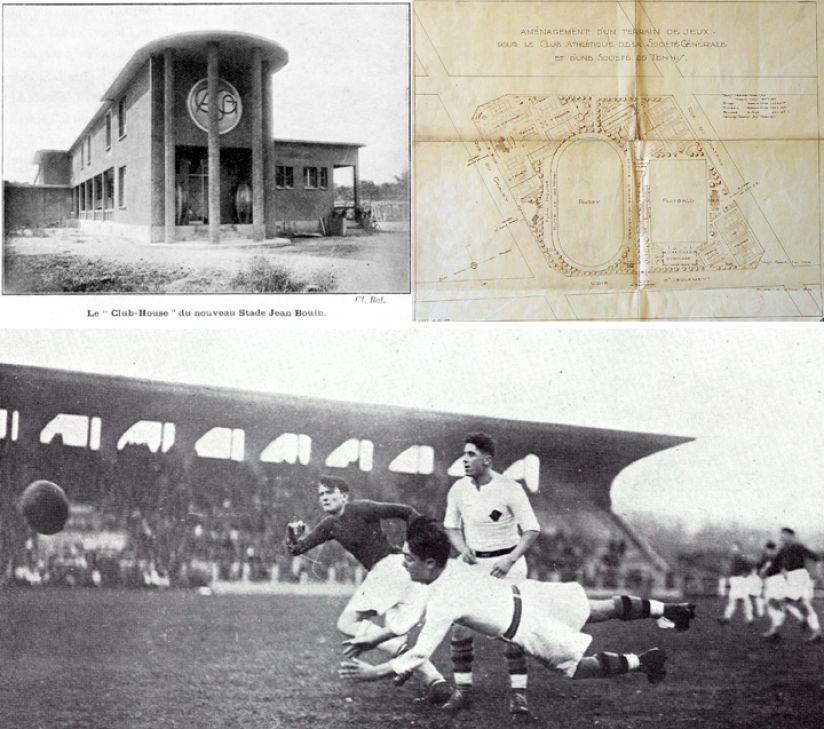 A real temple of rugby, these days the stadium is home to Stade Français, recent winners of the Top 14 (French rugby's top division), and fosters the rugby culture cherished by Societe Generale. Furthermore, the Group's commitment to financing sports arenas has continued through to the present day. As official partner of the French national team, the Group contributed to the financing of the Centre National de Rugby (CNR) in Marcoussis, which was inaugurated in 2002 and has ultramodern equipment. It is precisely where Philippe Saint-André's squad will start training in the lead-up to the Rugby World Cup…
© Archives historiques Société Générale