"Mission of Excellence: ASEAN Infrastructures" – Bpifrance and Societe Generale, in partnership with Business France, bring the flagships of the French infrastructure industry to Southeast Asia
Bpifrance and Societe Generale, in partnership with Business France, have selected 16 cutting-edge companies in the infrastructure segment that hail from every region in France and represent French industrial excellence. On Monday, they begin an intense week of customised meetings and coaching with prospects and partners in Singapore and Malaysia. The main objective of this mission is to help them better understand the needs of these two markets and sign contracts with local market players.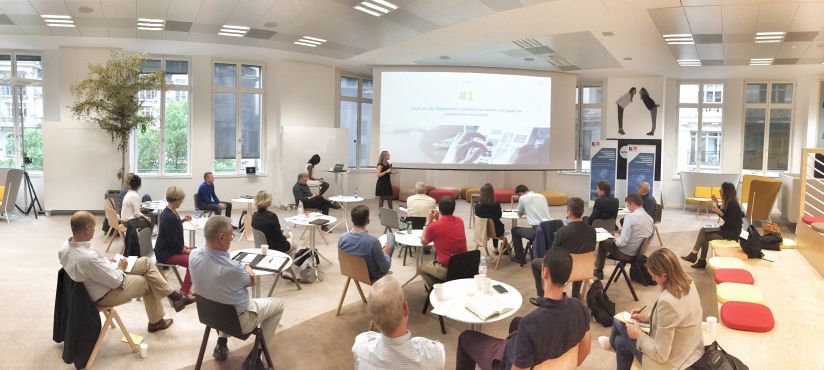 For the first time, Bpifrance is teaming up with a private bank, Societe Generale, to promote the globalisation of French industry. The two have sealed an unprecedented partnership to organise the second "Mission of Excellence: ASEAN Infrastructures." They have selected 16 highly innovative industrial SMEs and midsized firms for this comprehensive eight-month programme, to open the doors for them to the markets of Southeast Asia and provide them with the expertise of Business France. The program begins with a week of prospecting from Singapore to Kuala Lumpur, from Monday 30 May to Friday 3 June. Coached and supervised on site by the Business France teams, the companies will benefit from the expertise and follow-through of Bpifrance and Societe Generale for every contact they make.
The 16 SMEs and midsized companies, which are clients of Bpifrance and Societe Generale, were selected from among 45 previously identified companies. Most come from the Bpifrance Excellence community, and five of them are part of one of the two groups that completed the Accélérateur PME or 'SME Accelerator' programme in public banking. Already seasoned in exports, all of them offer innovative products and solutions in sync with the needs of Singapore and Malaysia in the industrial equipment and major infrastructure segment (railway, ports, airports, BPW, etc.). This mission will increase their export-market presence by establishing them on these markets where they were not active before, as well as putting them in touch with large groups that are clients of Societe Generale. Contact between SME/midsized firms and large groups is a major focus area of the guidance programmes set up by Bpifrance, specifically through its 'Accelerator' programmes.
Ranked #1 and #5 worldwide for the attractiveness of the infrastructure segment by Dutch firm Arcadis, Singapore and Malaysia have announced significant advances in their infrastructure to support their strong growth. This is a real opportunity for French industrial groups to develop their export business and penetrate the entire Asian market.
For Alain Renck, Mission Head, Export Bpifrance: "This mission demonstrates our capacity for working in harmonious partnership with private banks for the purpose of developing French businesses internationally. With Bpifrance's guidance combined with Societe Generale's expertise and backed by the Business France teams in ASEAN, 16 cutting-edge industrial SMEs and midsized firms will be able to infiltrate promising markets that were hard for them to access until now."
For Pascal Augé, Head of Global Transaction and Payment Services for Societe Generale: "The fact that Bpifrance and Business France chose Societe Generale for this first mission confirms the Trade teams' expertise and Societe Generale Group's standing abroad, in 66 countries on five continents. As the leading bank in France for International Trade, Societe Generale provides French businesses with proven solutions that are designed to support their strategy. In addition, eight out of 10 client businesses report that they are clients of our bank abroad."
For Frédéric Rossi, Head of Business France Singapore and for the ASEAN zone: "ASEAN countries have colossal infrastructure needs. This segment is absolutely critical for supporting the zone's economic growth and intensive urbanisation. Singapore and Malaysia are looking for innovative solutions in all segments, and French businesses are enjoying recognised expertise on site. We're pleased with this partnership with Bpifrance and Societe Generale, which provide their clients with export guidance in the international network of Business France. Together, we are opening the doors to these promising markets for France's international companies."
The press kit on the Mission's phases and all participating companies can be accessed here

Media contacts:
Bpifrance
Anne-Sophie de Faucigny
Tel: +33 1 41 79 99 10
Mob: +33 6 46 01 52 86
as.defaucigny@bpifrance.fr

Societe Generale Joelle Rosello
Tel: +33 1 42 14 02 17
Mob: +33 6 08 68 69 18
joelle.rosello@socgen.com

Business France Clément Moulet
Tel: +33 1 40 73 35 31
Mob: +33 6 75 55 73 19
clement.moulet@businessfrance.fr