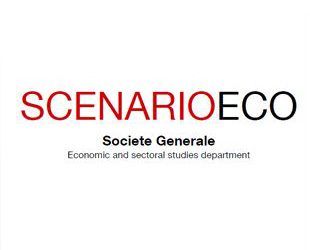 June 2017 - GREAT EXPECTATIONS
The stars are still aligned for the global economy, and GDP growth is expected to strengthen in 2017 and 2018.
The recovery in commodity-producing countries and the expected acceleration of growth in the United States would be the main drivers behind this strengthening.
However, this brighter global outlook remains subject to several fragilities: resumption of the Chinese slowdown, political uncertainties, exit of unconventional monetary policies, etc.
Italy: companies' difficulties are hampering investment and growth potential
Italian companies' financial situation started to deteriorate from the 2000s, with the end of productivity gains in the Italian economy. The increase in unit labour costs and the continued erosion of their competitiveness weakened companies' returns. All the while, labour market rigidities substantially restricted their ability to adjust. As a result, there was a sharp decline in corporate margins.
"Super-aged" nations and inflation: case studies
With more than 20% of its citizens aged 65 or older, Japan became the first "super-aged" country in 2006, according to a definition used by the United Nations. A few years later, Germany and Italy joined the super-aged club. This paper aims at examining the link between population aging and price dynamics by reviewing the experience of the world's three super-aged countries. All three countries have, in recent decades, experienced historically low inflation or deflation.

Recent academic work, however, suggests that fast-aging countries should confront rising inflation pressures.
Housing in Europe: are there any overheated markets?
Although the 2008 crisis seriously affected some European markets, housing prices have climbed in most Western European countries since the early 2000s, and even higher in most capital cities. If we compare these prices to household income or rent, the ratios have moved away from their long-term averages in Sweden, Norway, Belgium and the United Kingdom.

The overall trend of higher prices has been driven by a long-term decline in borrowing interest rates. This drop-off, paired with a slight increase in incomes, has kept real estate reachable to consumers. Still, with prices soaring, affordability has worsened since 2000 in Sweden and, to a lesser extent, in Switzerland, France and Belgium.
Emerging markets' external debt: it's the same old song?
The external debt in foreign currency of Emerging Market Economies has significantly increased over the last decade, supported by a low interest rates environment, emerging currencies appreciation, and rising commodity prices. Unlike previous episodes, this increase has mainly been driven by the non-financial private sector, rather than by governments and banks.

The heightened volatility of financial markets, triggered by the prospect of a tightening in Fed monetary policy and the drop in commodity prices, has increased risks related to this debt. Indeed, financial crises in EMEs are generally preceded by episodes of rising external debt.
US public debt: towards more domestic and private financing
From the early 2000s to mid-2008, the portion of US federal public debt held by non-residents rose from 30% to 50%, driven by the accumulation of international reserves by the central banks of emerging economies (led by China) and oil-exporting countries, periodic currency interventions by the Bank of Japan, and yen-dollar carry-trade transactions.

The surge in US public debt in the wake of the "Great Recession" of 2008 (+40 % of GDP), combined with Fed quantitative easing purchases led to a partial rebalancing of the investor base. Still, the portion of debt held by foreigners stayed at about 50%, with non-residents remaining highly active on the Treasuries market.
China: assessing the global impact of a Chinese slowdown
China's economic slowdown and its transition to a new growth model could adversely affect the world economy, due to China's large share in global trade and the high commodity intensity of its economic model. This paper assesses to what extent a Chinese slowdown would affect the global economy, with a focus on three transmission channels: trade, commodity prices, and financial markets.
Subscribe to the Economic studies series