CONNECTED BANK
A major worldwide intrapreneurship programme
Societe Generale launches Internal Startup Call, a major 'intrapreneurship' programme seeking to boost disruptive innovation projects across the Group. Open to all of the Bank's staff worldwide and starting this week, the Internal Startup Call is designed to give everyone the resources they need to invent new disruptive activities that offer strong potential for the Group.
First Innovation Week in the UK
Running from 7-9 November 2017, Societe Generale held its very first Innovation Week in the UK, bringing together staff, experts from the industry and FinTechs for open discussions to encourage collaboration, the sharing of ideas and emerging opportunities.
As part of the Week, Anthony Woolley, Head of Group Innovation for Societe Generale in the UK, shares his views on the relationship between Fintechs and tech giants.
Data, a strategic asset for Societe Generale
Today, data is central to customer relations and so to Societe Generale. In a digital environment, the Bank is able to improve client services, risk management and operational efficiency all thanks to data, while also ensuring service quality, security and protection.
NEWS
Launch of the first gender equality ETF
Lyxor launches Europe's first gender equality ETF (Exchange Traded Fund). Through this ETF, investors can access the 150 companies that rank highest for gender equality in the world. According to a study by the World Economic Forum, it would take another 218 years to achieve perfect gender equality if we maintain our current pace. Using ETFs, investments can be made to companies the most committed to this cause and so help accelerate their progress.
ENTREPRENEURS
Global Transaction Banking receives 11 awards
The Global Transaction Banking arm of Societe Generale (SG GTB) won 11 awards in a varierty of categories at EMEA Finance and Global Finance Magazine's latest industry awards.
Africa's aviation leader acquires a new-generation Airbus
Ethiopian Airlines, considered Africa's leading carrier, took possession of its fourth A350 XWB (extra-wide body) from Airbus on 28 April. The aircraft was acquired and immediately leased to Ethiopian Airlines by one of the main new players on the international aircraft leasing market, Ping An Leasing, a subsidiary of China's foremost private insurance firm Ping An Insurance Group.
Societe Generale participated in the success of this transaction, accompanying its clients as arranger and lender.
Viewpoint
TEAM SPIRIT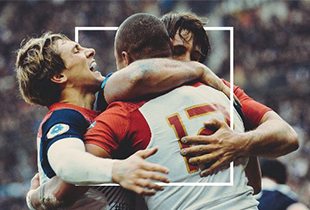 France to host the 2023 rugby world cup!
Despite being underdogs before the ceremony, France has been chosen to host world rugby's premier event. Societe Generale, which supported the #France2023 bid and is an Official Partner of the French Rugby Federation, would like to congratulate the organisational committee for this excellent achievement. After hosting the event in 2007, this is thus the second time that the William Webb Ellis Cup will be handed over in France.
Latest press releases
13/11/2017

Societe Generale launches a "Sustainable and Positive Impact Finance" offering within the global banking & investor solutions' activities

Societe Generale announces the creation of a consolidated "Sustainable and Positive Impact Finance" offering within the global banking & investor solutions* activities which incorporates the bank's Environmental & Social (E&S) expertise into a wide range of innovative financial solutions that satisfy the E&S requirements and challenges of its issuer and investor clients.

09/11/2017

Citizen Commitment Time 2017: over 7,500 Societe Generale staff worldwide engaged for solidarity

Citizen Commitment Time 2017 embodies Societe Generale's civic commitment and is an annual event that highlights its staff's engagement worldwide. Once again, the Group's staff members around the world took part, participating in sporting and charitable events to support Societe Generale's partner associations.