School for Porters Back to the school benches!
In 1934, Societe Generale created a school to 'perfect' its porters. Training was already becoming a trademark and a pillar of its corporate culture.
Aged 14 on average, the porters were recruited with their parents' consent once they had obtained their primary education certificate. In the majority of cases, this was their first experience of active life. Most of them were from large families from modest backgrounds living in the suburbs. Unlike what many people think, porters were not just in charge of welcoming customers. Highly versatile, they were valuable assistants who undertook services that were crucial to helping the teams operate smoothly.
Recognisable because of their characteristic uniform and youthful appearance, they stamped bills for discount or encashment, transported the post and carried out various small tasks, both in bank branches and in the Parisian corporate offices. When circumstances required it, they also ensured the site's security, notably at the entrance to the vault. On collection days, they would also accompany the remittance clerk during their rounds.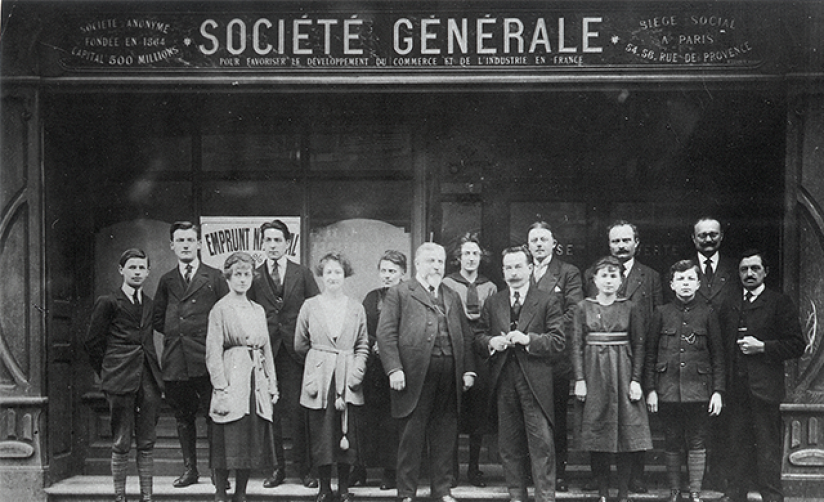 In March 1932, Societe Generale began looking into the possibility of opening a school to train porters. Having made training and in-house promotion a cornerstone of its corporate culture, the bank committed to making it easier for these young assistants to move up the ranks. Indeed Louis Dorizon, one of the Bank's former chairmen, started out as a porter and courier before moving all the way up the corporate ladder! In the autumn of 1934, Societe Generale took the decisive step to help its young personnel eager to have a career within the Bank.
It was a major innovation in the banking profession, and took place prior to the enactment of the Collective Agreement of 3 July, 1936 incorporating the provisions of the Astier law required companies to provide staff aged under 18 with professional education.
Every school year, under the supervision of approved teachers, the porters all gathered in the Bank's Central Branch, Édouard VII and Trocadéro premises. To ensure the best supervision, classes had no more than 15 students. Depending on the year, lessons took place two or three times a week during office hours, generally at the beginning of the afternoon. From 1951, this training involved up to 5 hours a week.
Education focused firstly on French, and notably grammar, spelling, writing and diction. Then came arithmetic, in particular swift mental arithmetic and basic banking transactions. In geography, the students were required to acquire a detailed knowledge of French departments (counties) and their prefectures (county towns) and sub-prefectures.
Each porter was provided with a livret scolaire (school report book), which they had to sign each month and which indicated their grades, absences and class ranking. Observations regarding their conduct, behaviour and work were documented for the benefit of their superiors and their parents. The archives describe a sense of competition that benefitted everyone and united the students. Despite some inevitable broken rules and warnings, the general goodwill, work discipline and thirst for knowledge is a tribute to these teenagers.
Their gratitude vis-à-vis the institution resulted in an excellent success rate at the bank employee CAP (certificate of professional competence) exam, an essential prerequisite to launching a professional career. This positive initiative provided them with many great memories and helped strengthen their sense of belonging.
Find out more