(Dé)placements : New installation of selected works from the Societe Generale Collection
Societe Generale has invited a freelance exhibit curator from Cameroon, Koyo Kouoh, to oversee a new installation of selected works from the Societe Generale Collection in the display space in the Group's Head Office at La Défense.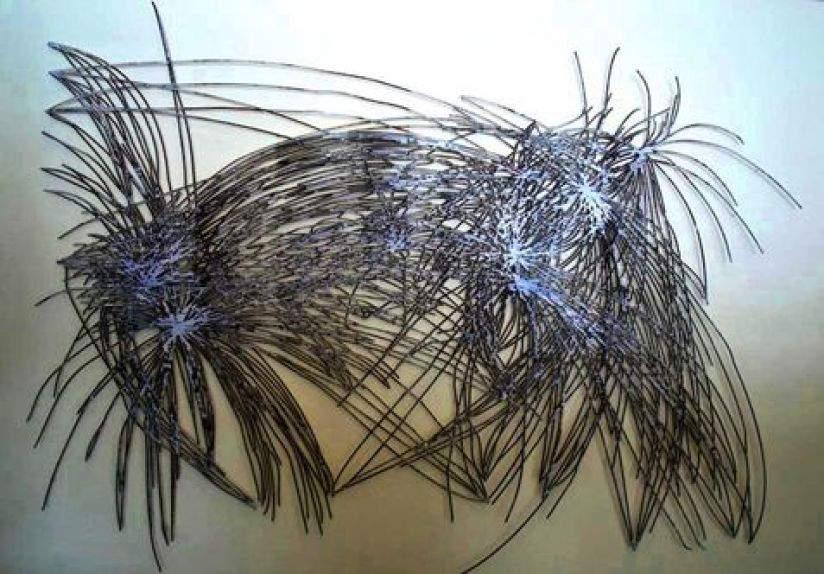 Lyndi Sales, « Flight path I, variation 3/3 », 2009, Boarding passes and pins
© Collection Société Générale
Movement is the theme that caught the attention of Koyo Kouoh and will be the common thread of her installation, entitled "Dé-placements" ("Dis-placements"). Déplacement(s) chooses to consider the specific situation of a collection of modern and contemporary art destined to be presented outside the traditional exhibition spaces of museums and galleries, of private collections unveiled by collectors.
The exhibition thereby seeks to play with the spectator by offering a selection of works and a scenography emphasising the relationship between the viewers and the works, taking into account their physical movements, as well as their sensory and mental conditions. Playing on immobility and movement, the visible and the invisible, the exhibition arrangement makes visitors aware of their relationship with the works, the time they spend, or don't, contemplating them, they ways in which the works can surprise them or take them «elsewhere» on sensory or perceptual journeys they did not want or anticipate when moving from one place to the next, making the notion of visitor journey being particularly apt.
Biography Koyo Kouoh
Koyo Kouoh is the founding artistic director of RAW Material Company, a center for art, knowledge and society in Dakar and the curator of FORUM, the education programme at 1:54 Contemporary African Art Fair in London.
She served as curatorial advisor for documenta 12 (2007) and 13 (2012). Her recent projects include Body Talk: Feminism, Sexuality and the Body in the work of six African women artists, (WIELS, Kunsthal Lund, FRAC Metz, 2015), 'Word!Word?Word! Issa Samb and the undecipherable form', (Raw Material Company/ OCA/Sternberg Press, 2013), the first monograph dedicated to the work of seminal Senegalese artist Issa Samb. 'Condition Report on Building Art Institutions in Africa', a collection of essays resulting from the eponymous symposium held in Dakar in January 2012. Besides a sustained theoretical and exhibition program at RAW Material Company, she maintains a dynamic international curatorial, advisory and judging activity.
New installation from the Collection
Société Générale Towers, Paris La Défense, France
2 April – 30 October 2015
Guided tours are open to the public: sign up via the Collection website: www.collectionsocietegenerale.com

On the occasion of the 20th anniversary, a book on the Collection will be released in early April.
Follow the Société Générale Collection:
http://www.collectionsocietegenerale.com
Facebook : Collection Société Générale
Twitter : @Collection_SG
Pinterest : Collection Société Générale
Instagram : CollectionSocieteGenerale
Press Contacts:
Agence L'art en plus
Virginie Burnet
+ 33 (0) 6 87 77 75 54
v.burnet@lartenplus.com
Société Générale
Astrid Fould-Bacquart
+ 33 (0)1 56 37 67 95
astrid.fould-bacquart@socgen.com